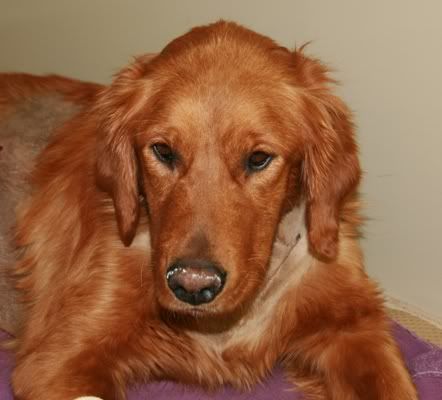 Little Orphan Annie was found in a snowbank near Glenwood, MN and brought to the local Humane Society by a Good Samaritan. It was discovered that she had been shot twice! One rifle shot went through her neck, including through her esophagus. The other went through her abdomen and exited through her chest, fracturing a rib and puncturing through her diaphragm. She was transported down to the ICU at the U of MN Vet Hospital. This is the only place with the specialists who could do the esophogeal surgery should she require it.
Annie is incredibly sweet and beautiful -- a dark red, petite female. She is young --about 2 years old they think. Despite having to increase her pain meds for a painful tummy, she was wagging her tail at visitors.
You can read more of her story here:
http://ragom.org/avail.cgi/Available/dog?dog_id=3887
The latest update from the RAGOM website is this:
Annie is likely to be released in the next day or two! Her drains have all been removed. Her IV is still in for antibiotics but they are switching her to oral meds today. She is eating hamburger and rice. The swelling is down in her legs and the holes are not leaking fluid anymore. Her pneumonia is not resolving very quickly and her protien is slow to rebound. Dr. Gray said she is trying not to pay so much attention to the lab results and is trying to look at the patient instead. And Annie looks pretty bright today! Lots of tail wags and nose pushes for pets. Annie's Christmas stocking is filling up with treats! She is not too interested right now (she has hamburger after all) but we will make sure she gets to take them home with her.
A sad story with a happy ending!