I found my mommy's den closet door open and what was hidden in there? I think it was another eskie!!!! It was white with big brown eyes and a black nose. I dragged it out and had my way with it.
I had more fun with this thing than any other squeekie toy that my mom has.
I love to shake it and let it drop to the bottom of the stairs.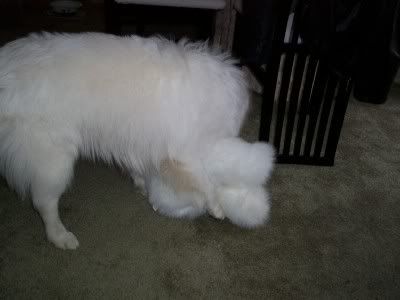 Take that you imposter!!
My mommy put him in my toy box last night and when I woke up today I stood at the top fo the stairs looking down at him and barked and barked at him. Mommy thought we had an intrudor!!! I was so scary to that white thing.