I have a visitor this weekend. 11 month old Kodak. He is a beautiful eskie that has some fear issues. His owner is a breeder/shower (she's been to Westminster!). I met Kodak at a dog show in MN when he was just a pup and she had offerd to place him with me then, but I wasn't sure I wanted a puppy and I still had my Clive. Since I lost Clive, I thought I would check back with her and see if she still had him. She did. :)
He is settling down and getting used to his new environment.
He is fully intact so I will have to have him fixed. Ugh.... :) Poor baby. But it's best. He has already marked once and has attached himself to me a couple times.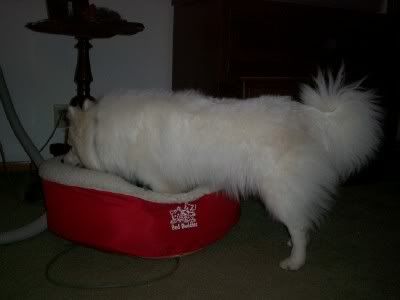 He did like exploring the toys but once he had them they didn't keep his interest. He liked the one rawhide that I found. Will have to get more. I am hoping this works out.