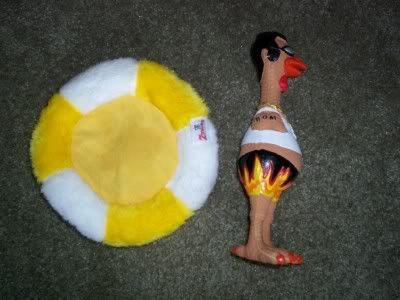 My mommy got me some new toys at Chuck and Don's. Notice the "MOM" tattoo on the funky chicken's arm? hehehe
Guess which one is my favorite?
Yep! You're right, this fluffy frisbee! It squeaks a lot and I like that. I played lots with it then we went to bed and we took it in bedroom with us. For some reason my mommy didn't like it when I started to play with it at 4:00 a.m. I got that squeaker out the next day.
Then I remembered my other new toy!
I love to take the stuffing out and get at those squeakers!!!
I'm almost there!! Gotta get that squeaker!